Apple users are usually very excited about the new iOS releases since every release brings new features for their Apple devices, thereby improving their experience. Before the full version of iOS 12 rolls out, Apple made the beta version available for public in September 2018 just two days after it was made available to the developers. Considering the fact that a large chunk of iOS 11.4.1 users have upgraded to the iOS beta 12 version including myself, it is imperative to have a complete guide for a better experience.
An Overview of the New iOS 12 Features
Apart from performance improvements, there are certain new features in iOS 12 that you must appreciate. The new features make the experience of Apple users amazing and it is mainly because of this reason why Apple is able to maintain brand loyalty despite competition from Android.
Group FaceTime: When iOS 12 was first announced, the feature of group FaceTime call was revealed and it created much excitement among the masses. The new feature will allow more than two Apple users now to connect at the same time with each other. While this may seem like just another group video calling app, the performance of FaceTime and exclusivity is matchless. What is more exciting is the fact that you can use camera effects too that are available in Messages and apply filters or stickers.
Dual SIM support: The new iPhone XR, XS and XS Max consists of built-in eSIM that the all new iOS 12 supports. This is an innovative invention since users can load a second cellular plan without having to buy another SIM card. Users of these devices therefore have another feature to be excited about and can test immediately with iOS beta update.
Camera depth control: Camera quality of Apple devices is well known in the market and iOS 12 brings a feature of depth control to further improve your photography experience. With camera depth control, you decide the background blur for every picture you capture from front or rear camera to maximize the picture quality.
More emoji: Communication is usually incomplete nowadays without an emoji because it helps us convey the meaning of our messages in an efficient manner. As you can test in the beta version, iOS 12 consists of some new emoji with red and grey hair, more of bald emoji and so on.
Getting iOS 12 Public Beta
Users of iOS 11.4.1 immediately wanted to upgrade mainly because of the added features and to get comfortable with the updated platform and hence Apple released the iOS beta 12 version quickly after the developer beta. The procedure to upgrade is easy as you simply need to visit beta.apple.com and create an account if you have never updated to an iOS beta version by yourself. If you already have an account, you just need to sign in and enter your Apple ID and password.
There is a slight different process to get iOS 12 public beta as configuration profiles are being used to validate devices. Therefore make sure that you remove previous beta profile, if any, prior to the upgrade.
All you need to do is to tap on download profile on the iOS tab after logging in. Enter the passcode, follow instructions and reboot to get an automatic upgrade. Installation is the same as for every other version i.e. general setting → software update.
Reversing the Update
It is normal for any human being to try out a new invention and not like it. The iOS 12 public beta was introduced because Apple users wanted to check the performance and new features and this means that there might be bugs in the update. Therefore, you can always downgrade your device back to 11.4. However, successful downgrade will only be possible if you have archived the data previously!
After connecting to the iTunes screen on Windows or Mac, tap "restore" followed by "restore and update" option. Follow the instructions and once the download is complete, your device will be restored to the older version of iOS that you were previously using.
From Public Beta to Full Version
In majority cases, users want the full version as soon as it is rolled out because that is a perfectly smooth upgrade without any bugs. The update is usually done automatically but if your device, for instance, keeps updating the iOS beta version, you simply need to remove the beta profile.
Doing this directly on device is an easier process as compared to doing it using iTunes. With iTunes, the shift to full version gets slightly complicated but once you are connected, the update option emerges without much problem so you can do it using either way.
Sending Feedback for iOS 12 Public Beta
Finally, you must know how to send Apple the feedback about the iOS beta 12. The main purpose of making iOS beta available is to obtain feedback, modify changes accordingly if need be and release an improved final version because that version is what the world would remember.
Feedback App: Developer beta version requires submission of problems via online bug reporter website which is relatively more work than providing feedback in public beta. Home screen will have a feedback app that will require you to login using your Apple ID and compose the feedback.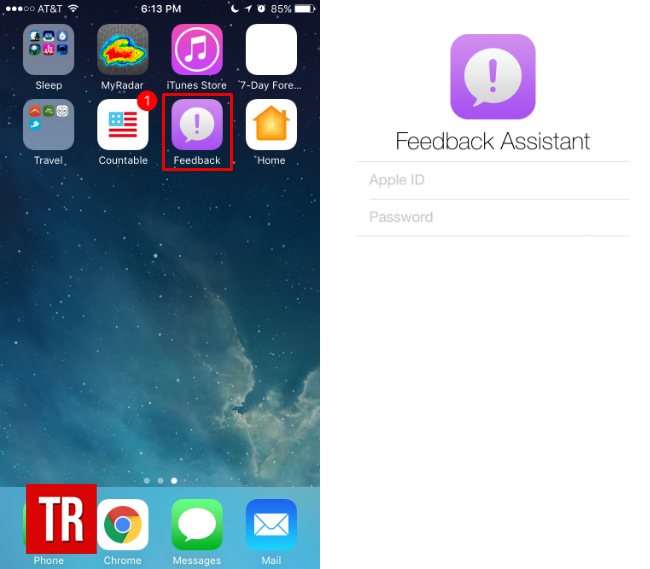 Providing honest feedback with regards to the performance, bugs, features or any relevant thing is crucial for Apple because otherwise they would not be able to improve user experience. For your own satisfaction, Apple provides an option to cancel feedback at any time!
In iOS beta 12, you must keep an eye on the very minor bugs and report them to the Apple engineers. Once the final version is rolled out, the engineers would only have time to fix major bugs that are ruining the user experience and may not take minor bugs into consideration. So the earlier you get iOS beta, the better it is for the entire Apple community.
Loved this post? Share your comments or feedback in our comment box below and our Social Media Profiles: Facebook, Twitter, and LinkedIn.